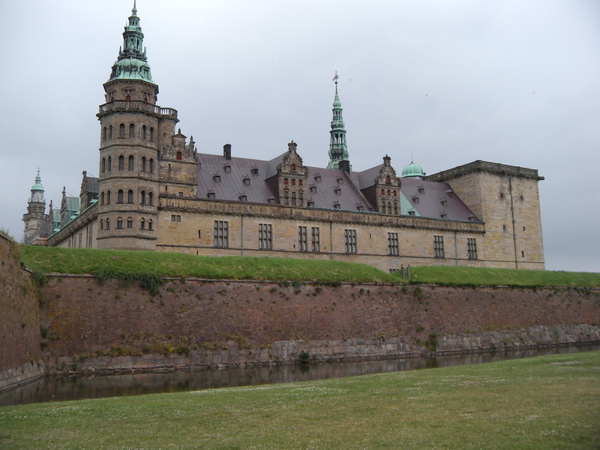 The destination of day 2 is Helsingor, where there is one of the three world culture heritages in Denmark.
That is Kronborg, where the famous Shakespeare's work "Hemlet" developed. Just take Re( Regional railway operated by DSB) from Copehagen central station to the way to Helsingor. It takes about one and a half hour. It's also the final stop.
There are two exits: one is to the downtwon, and the other is to the Scandlines. There is no main entrance.
This is the front view of the station.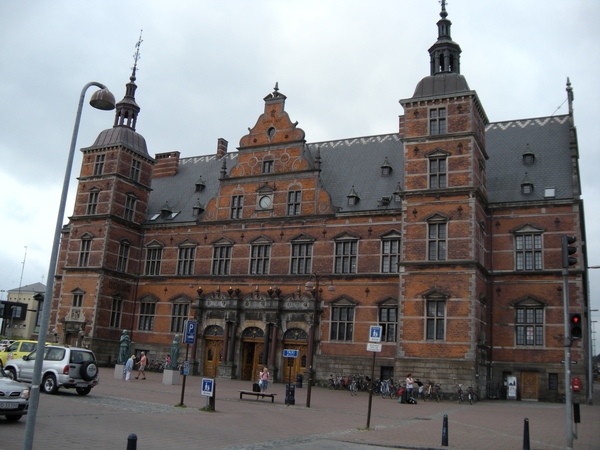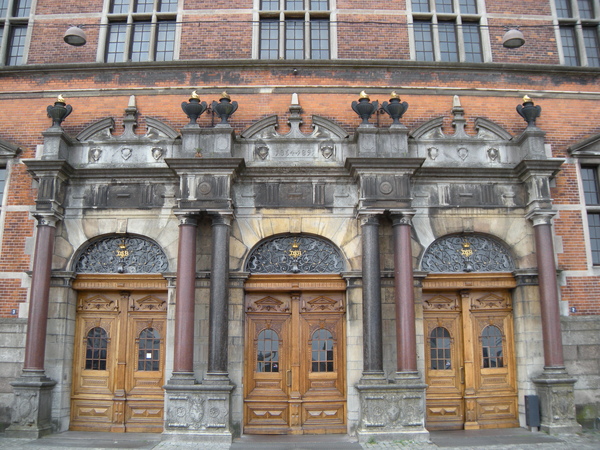 You can see Kronborg here.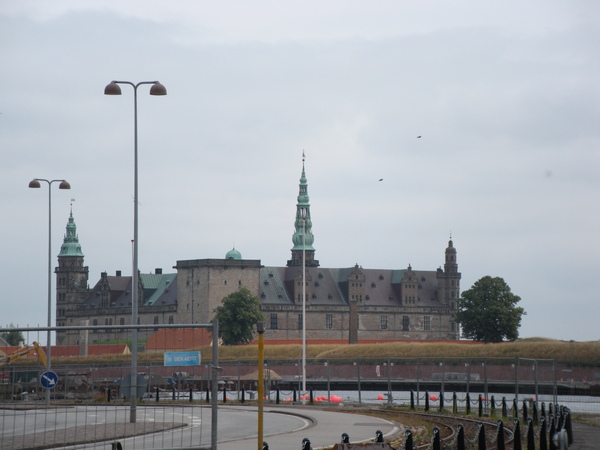 It's Sunday when we visited this town. Most stores were closed except restaurents. So we can take our time to see this town.
It takes only 20 minutes from Helsingor to Helsinborg, which now is belonging to Sweden. In the period of centries 16-17, fights happened often between the two coutries.
Several Denmark kings lived here. Most houses keep the character of the old time.
This one is supposed to be the post office.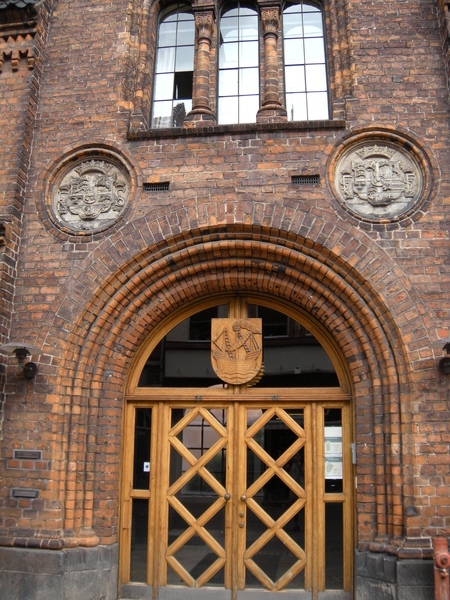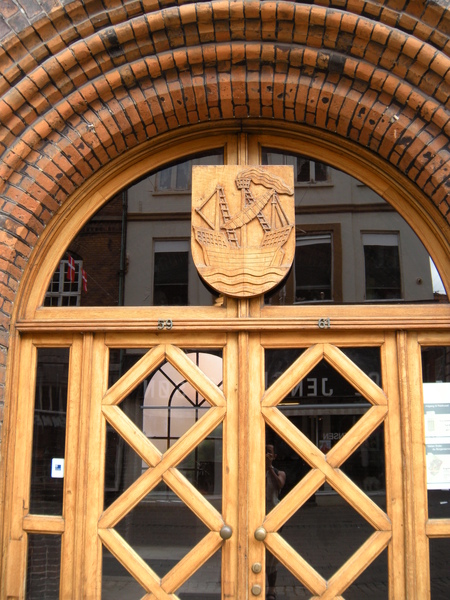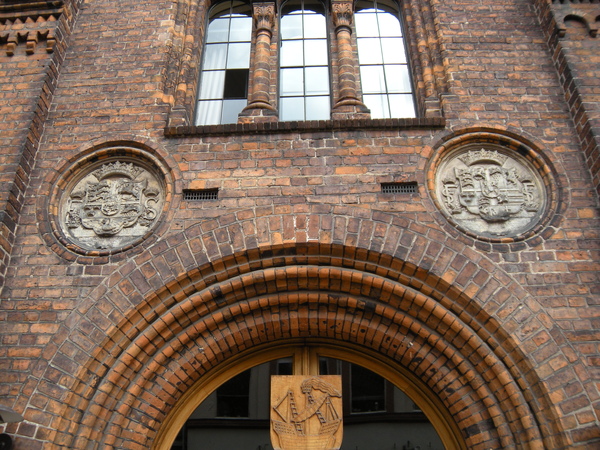 The Danish are crazy about their national flag. Evevn in holidays, you can see flags all the town.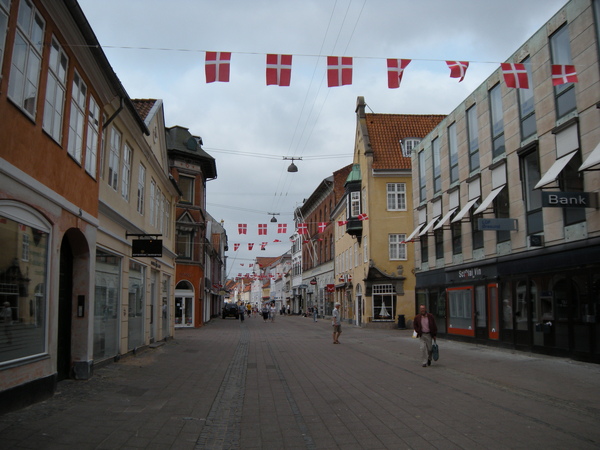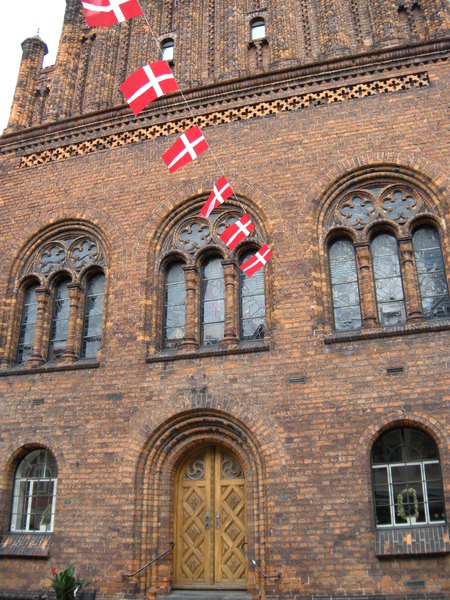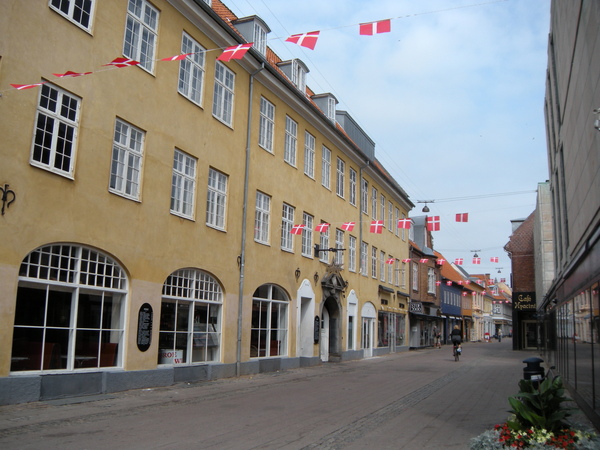 It's very quiet. Take your time and enjoy the scenes of the streets.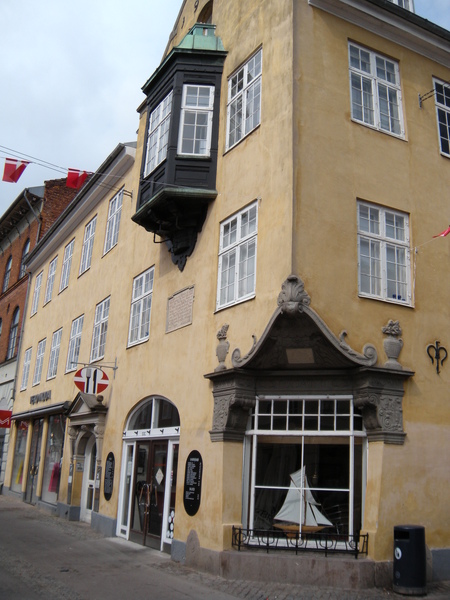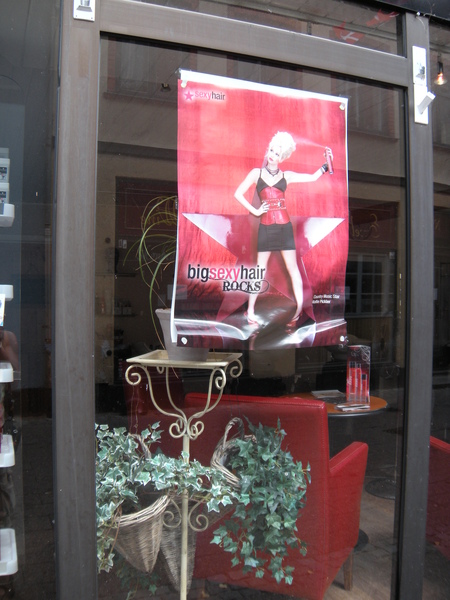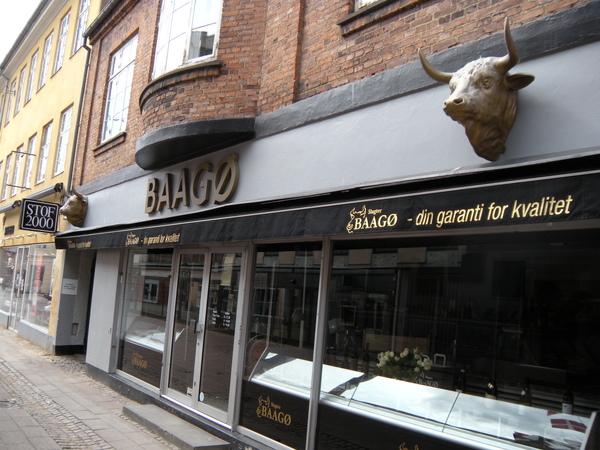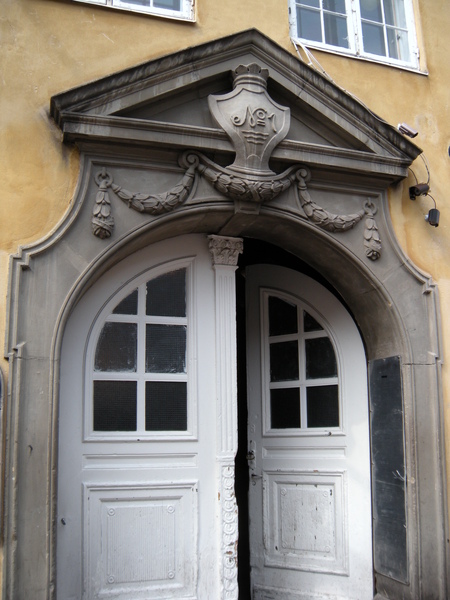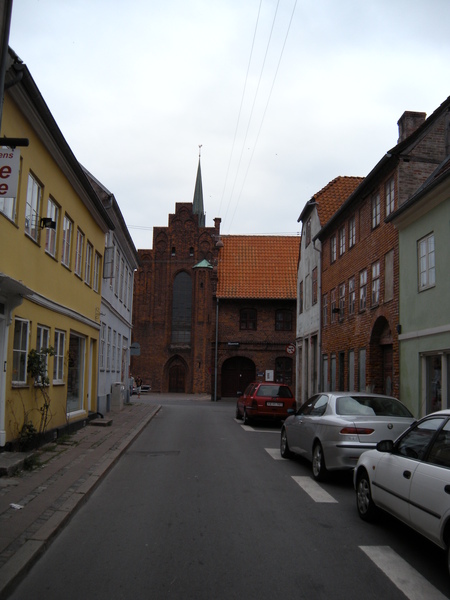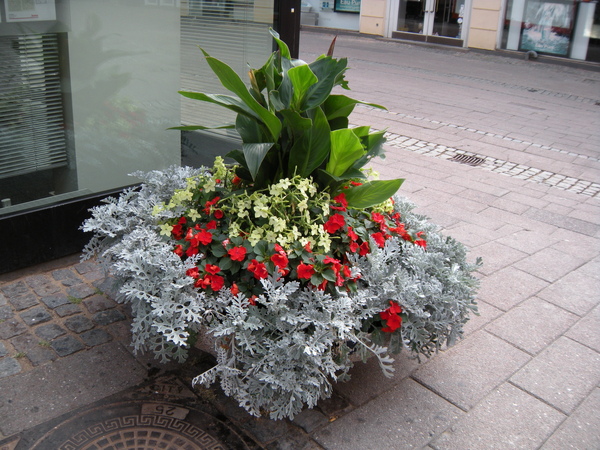 I happened to see a family on their vacation in a small garden. I took pictures of them.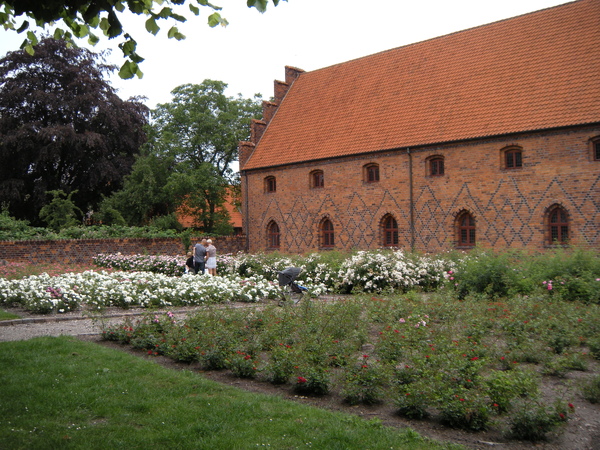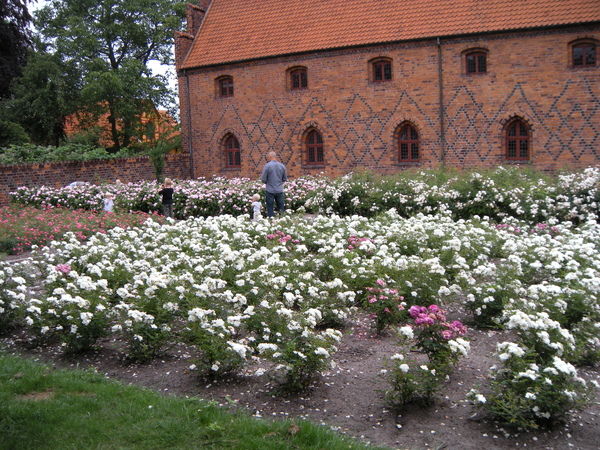 The father found out and he suggested to take a look at the church nearby.
There happened to be a ceremony. We visited the church after that.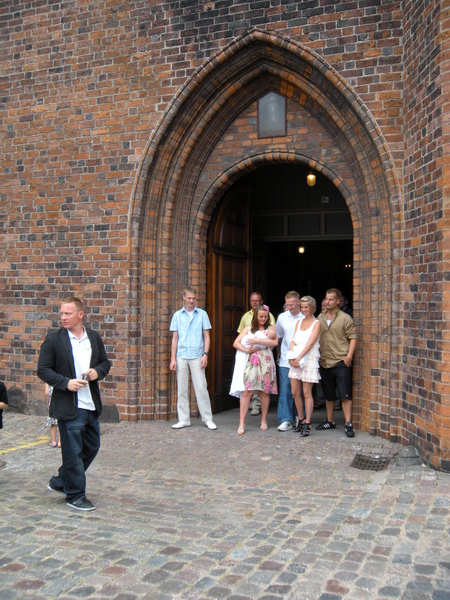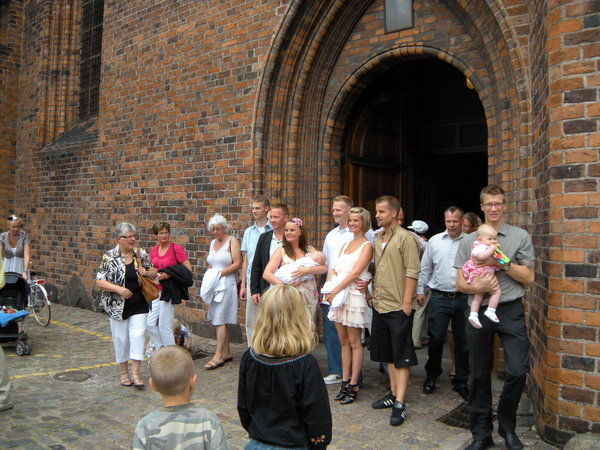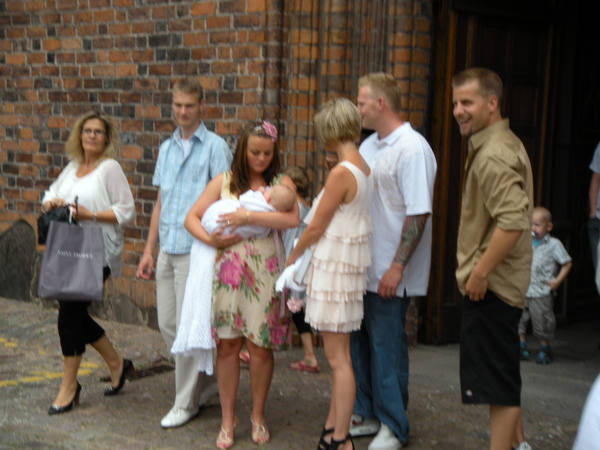 It's different from the Gothic church, which is huge and costs tremendous amount of money.
This church is a small and delicate one.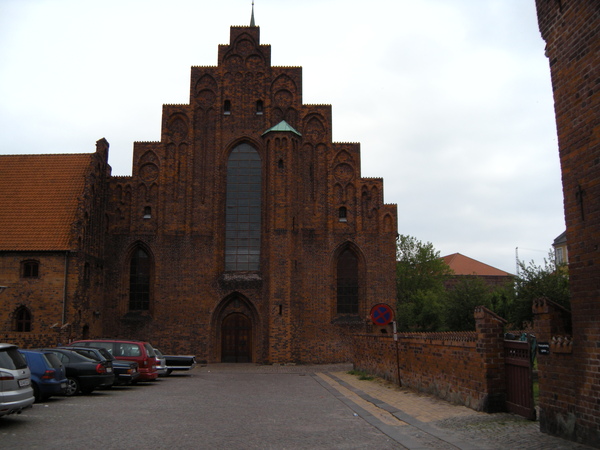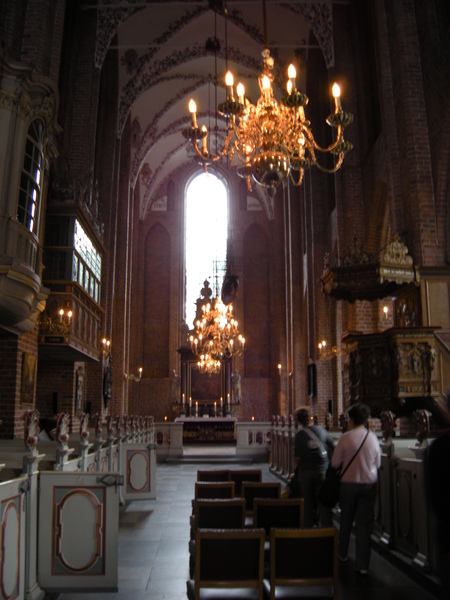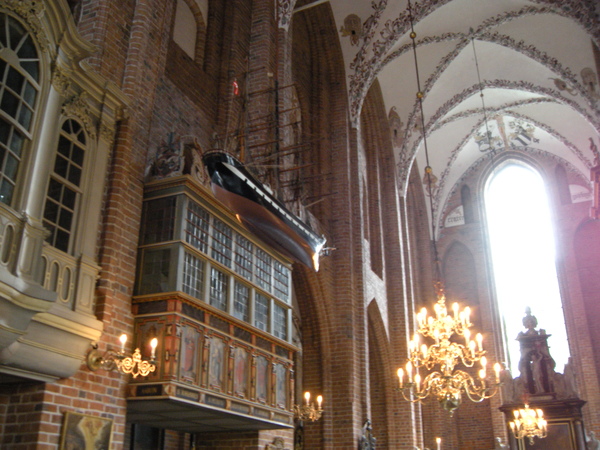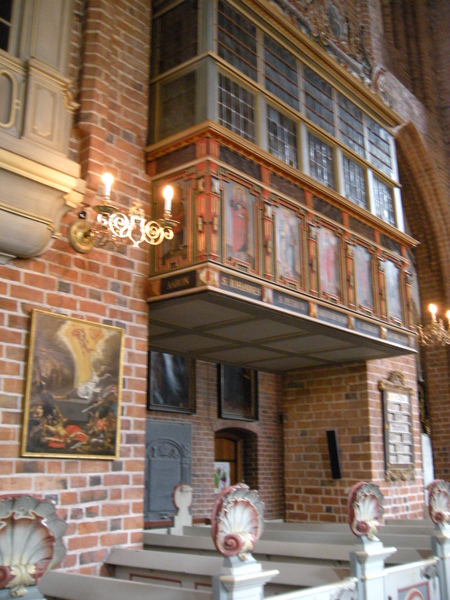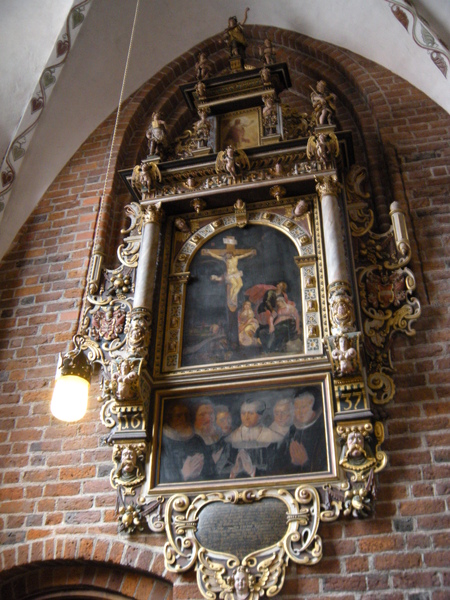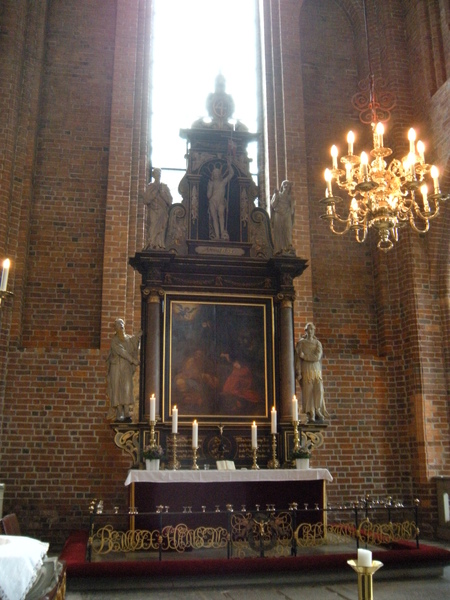 There are always Viking ships in the Danish church.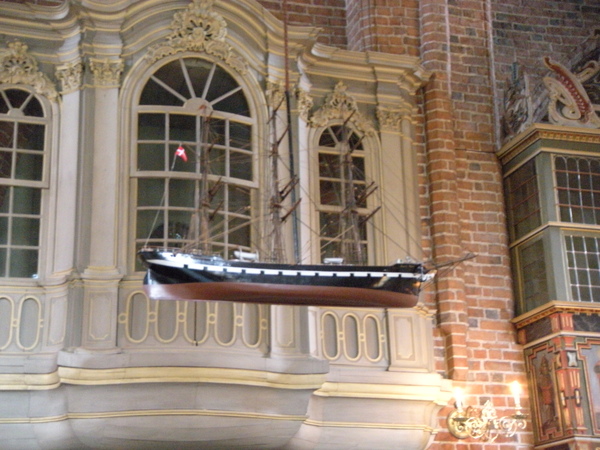 The door knob is cute. I guess it's an angle on a devil.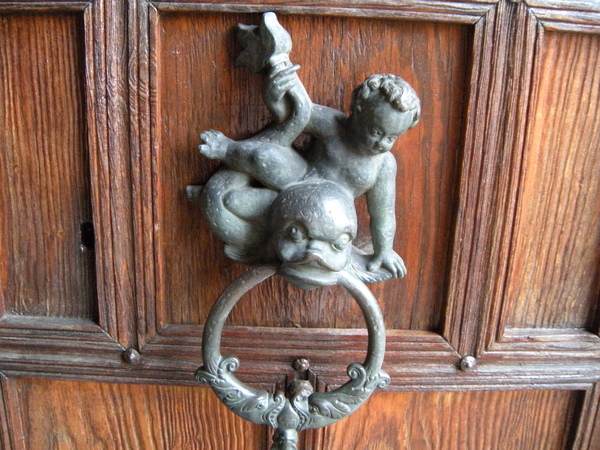 For the begining, the square was almost empty. By the noon, the restaurents started to serve.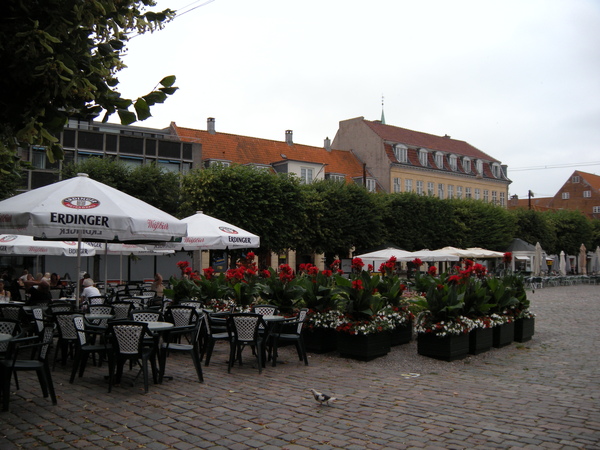 This is the restaurent we enjoyed our lunch.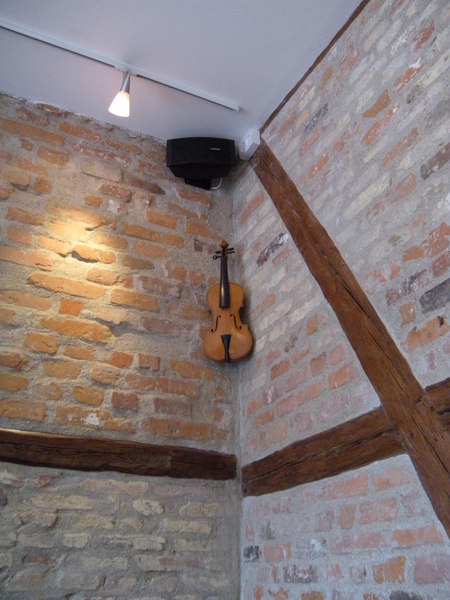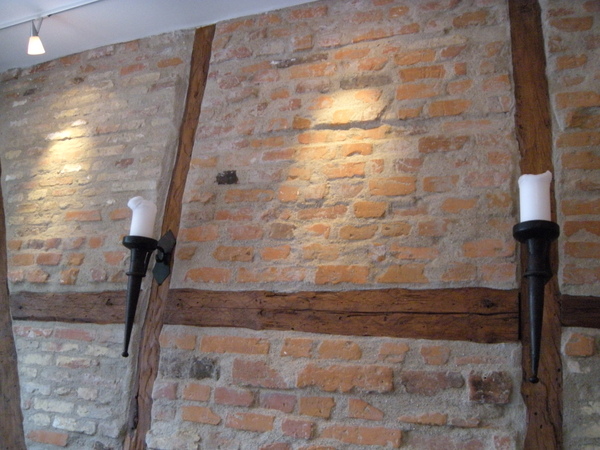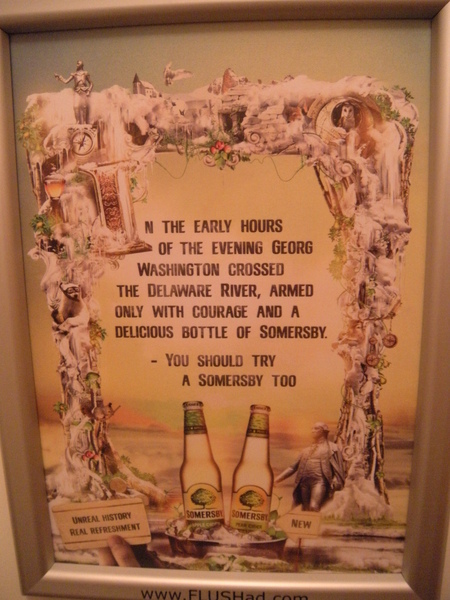 I ordered the special dark beer of the house. It tested fantasitic. But it costed 50NT(7-8EURO). It's really expensive.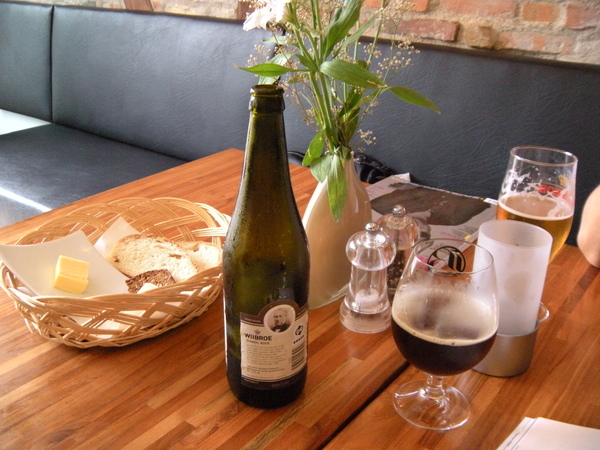 This is my main course, club sandwich, which is the typical Danish dish. The top and the bottom are two pieces of baken toast. There are vegetables and chicken breast( or beef 、pork.....) between.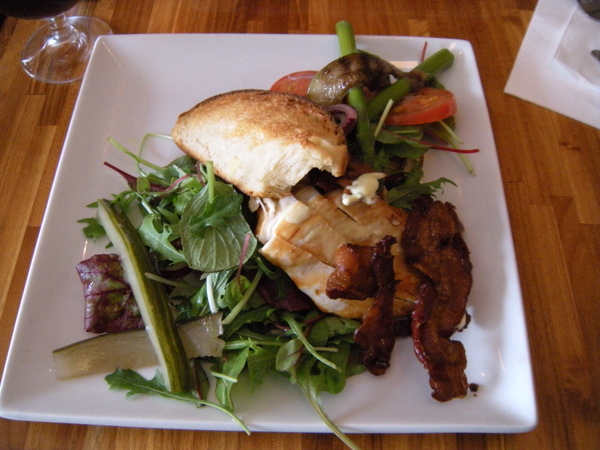 But it can't be enjoyed by hands only. You need knives and forks.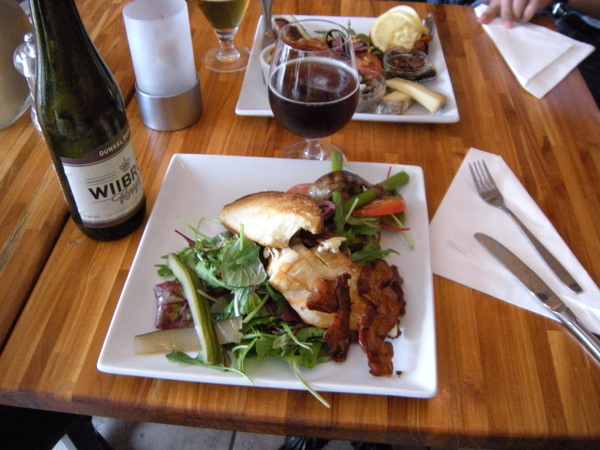 This lunch costed 290DKK(45EUROs), including two beers, one salad and club sandwich. That's extremely expensive.
According to the tourist book, there is a garden on the way to Kronborg. In my opion, it's a small corner. However, you can see sculpture, plants and a pool here.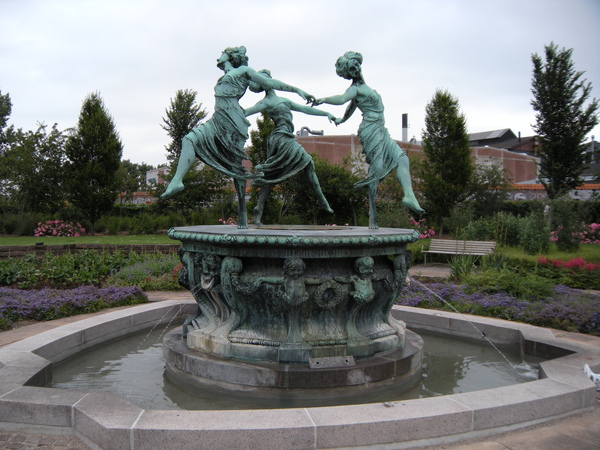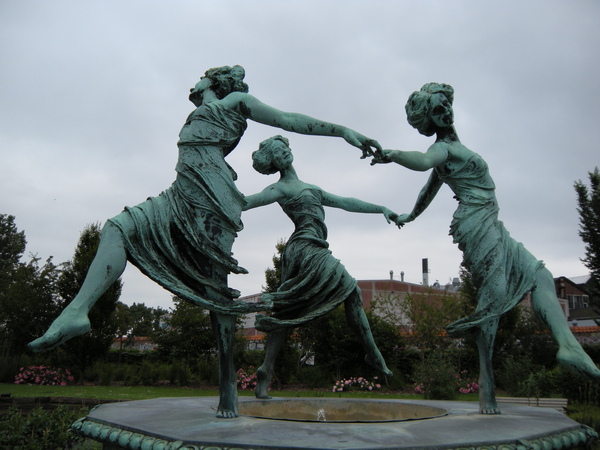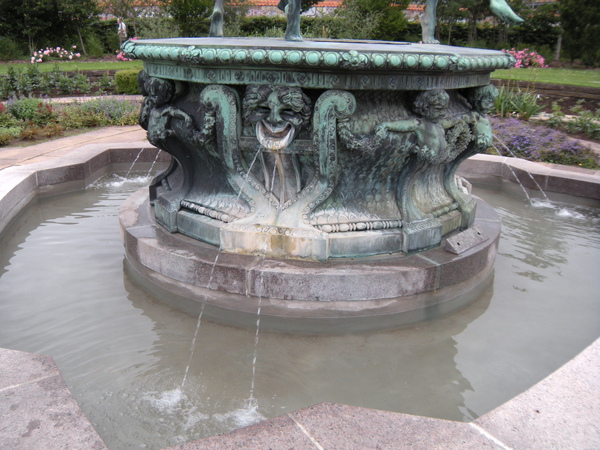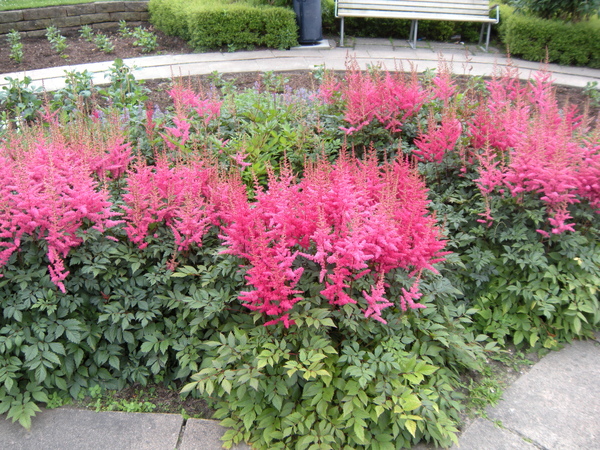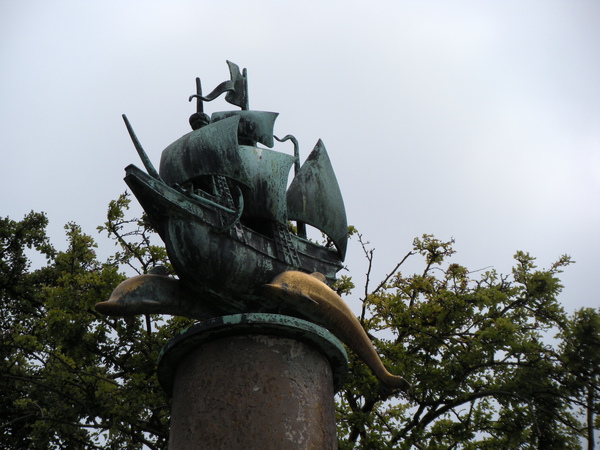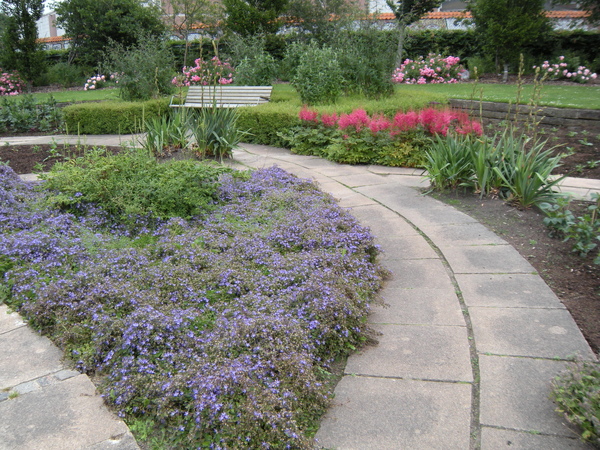 Then the Kronborg is very close to you.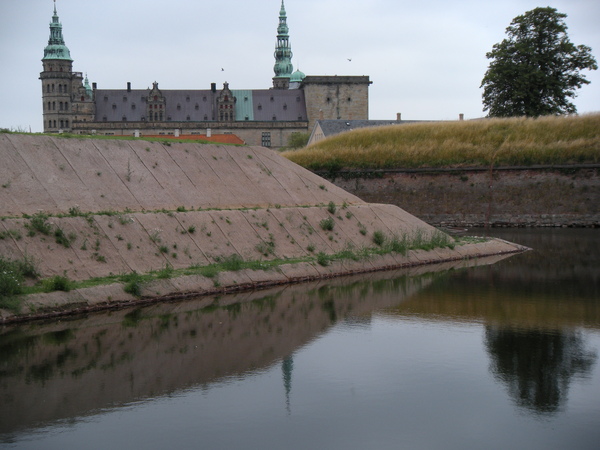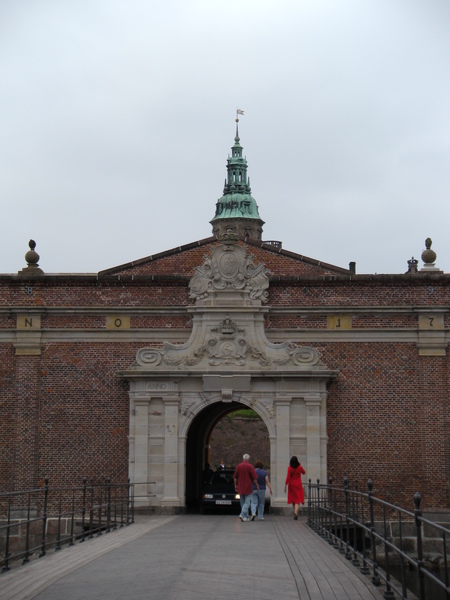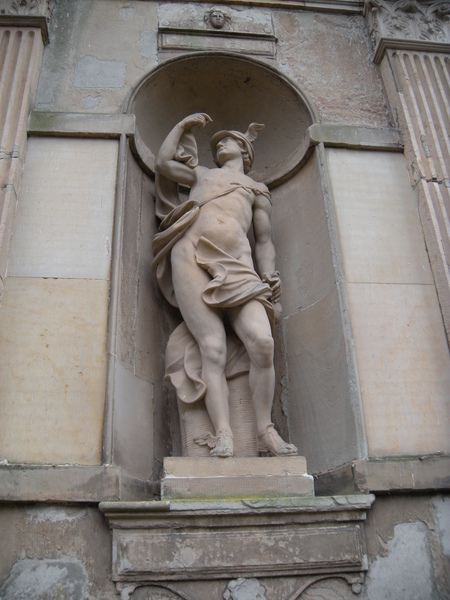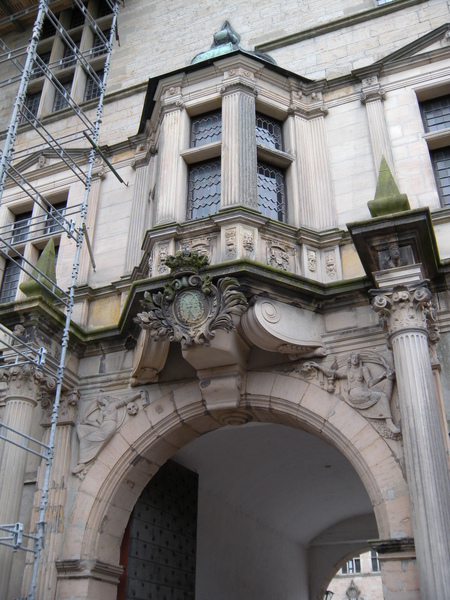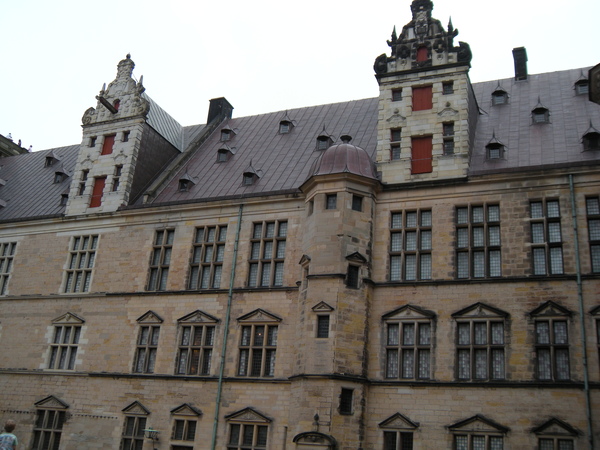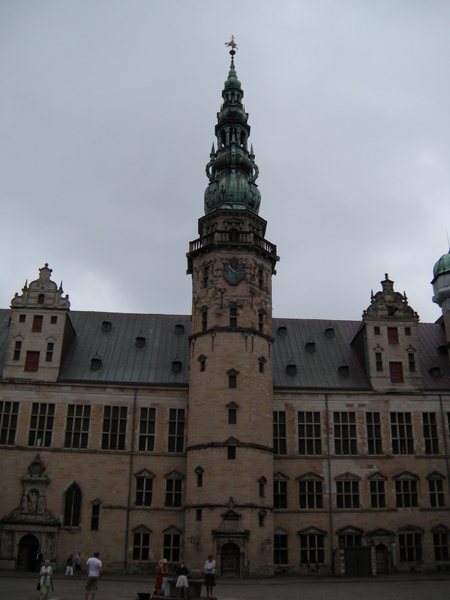 We chose to visit the royal rooms and the chapel.
This is a small chapel.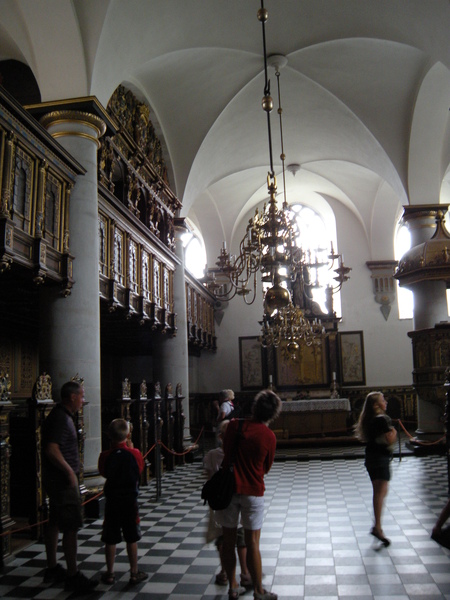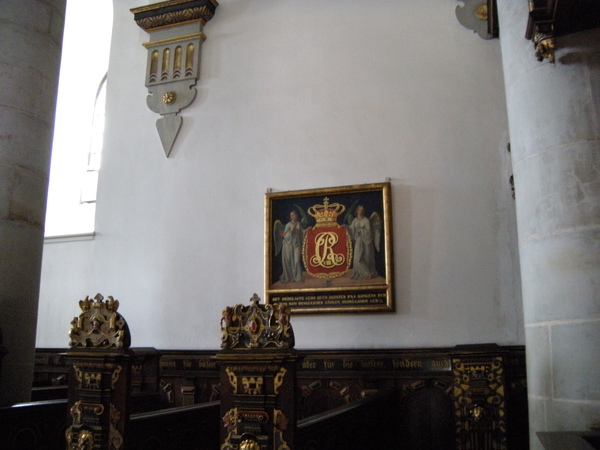 There are different sculptures for each seat. All the men or women are topless or almost naked.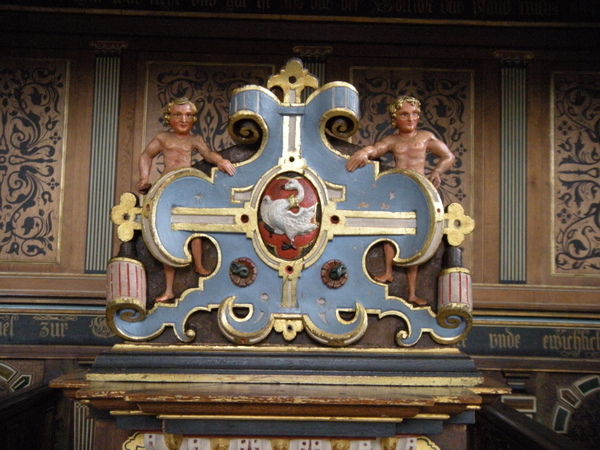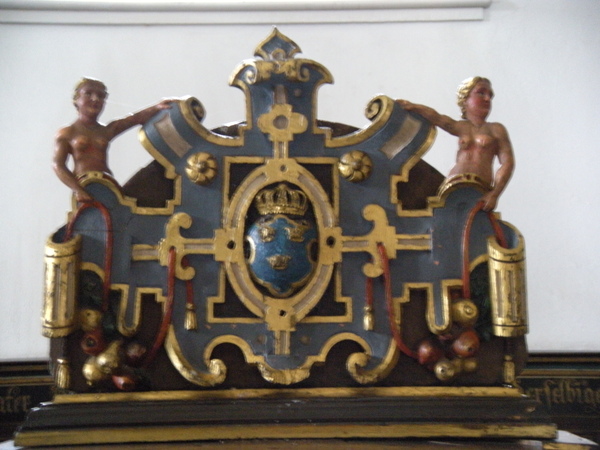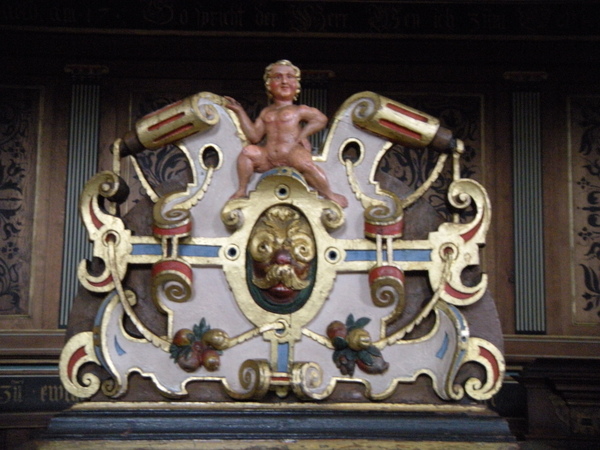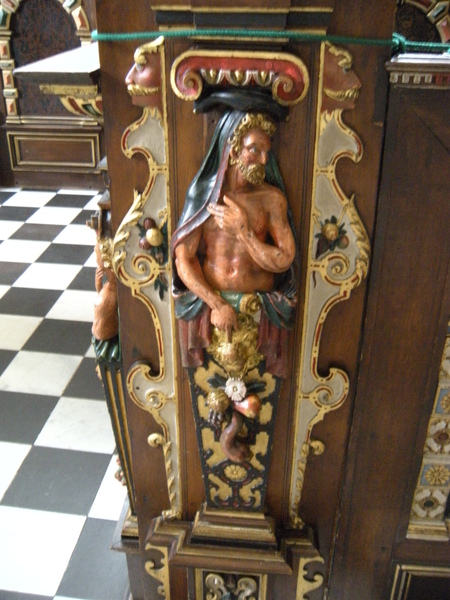 I was not sure if it's allowed to take photos in the royal rooms. Thus I can't share photos with you. However, I can show photos of the basement and the mysterious prince.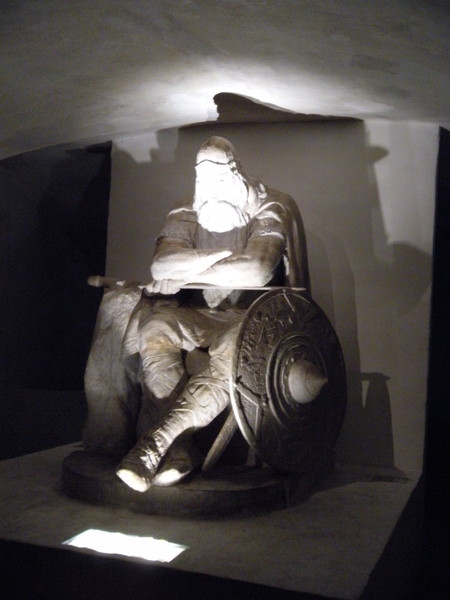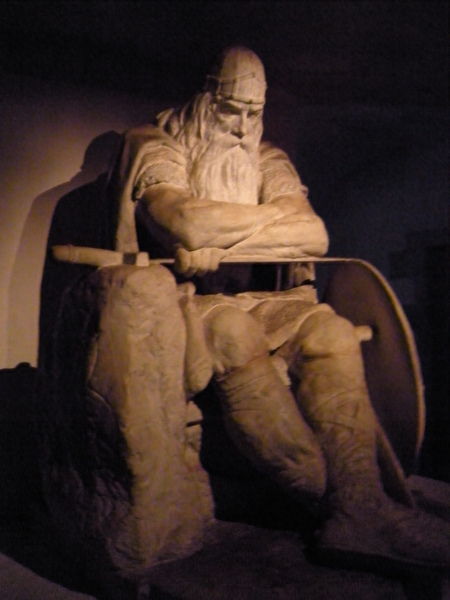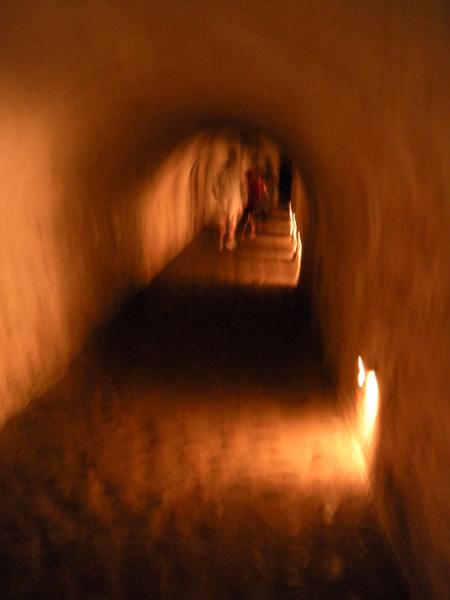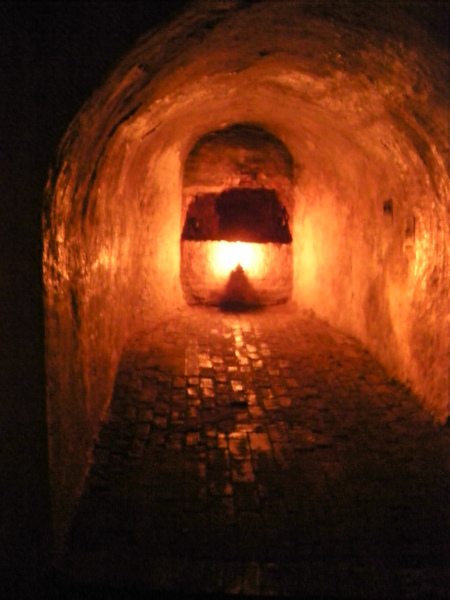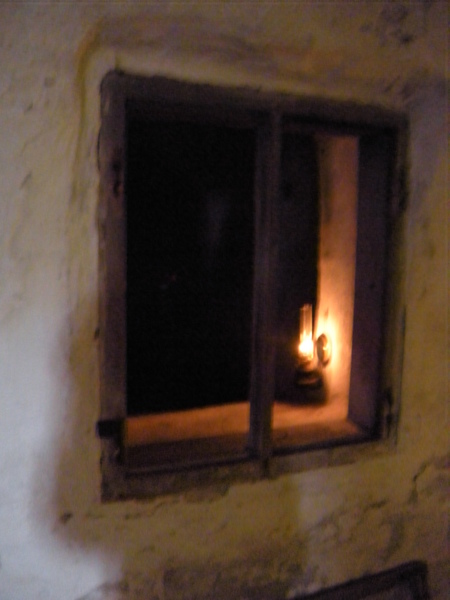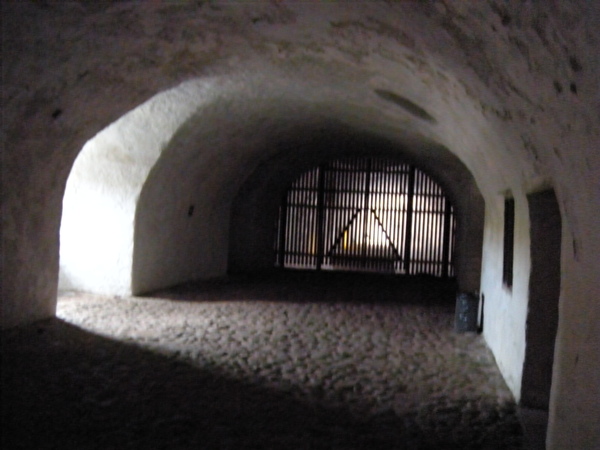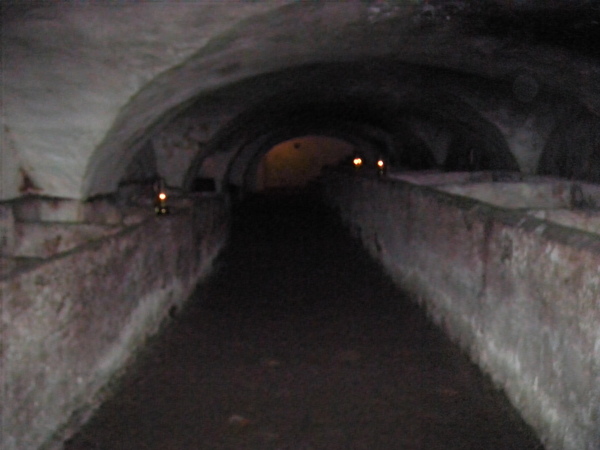 Evev in the summer time, it's freezing in the basement.
The sunset of Denmatk in summer is about 10 PM. Since we have the railway pass, it's free of charge to take the Scandlines to Helsinborg.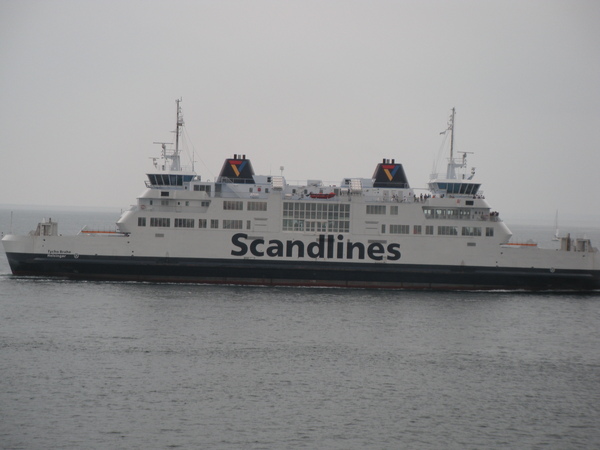 So we took the Scandlines to Helsinborg, which is located in Sweden.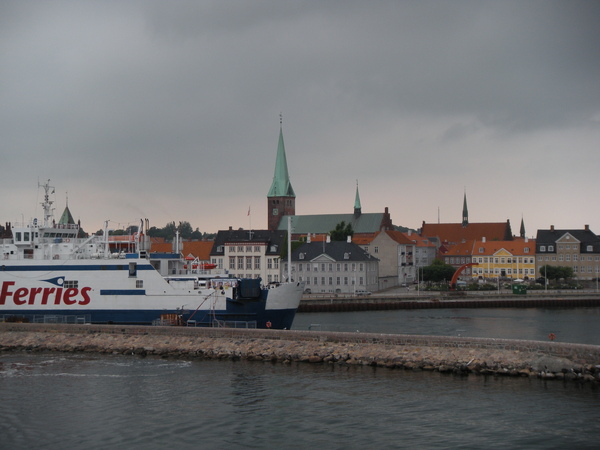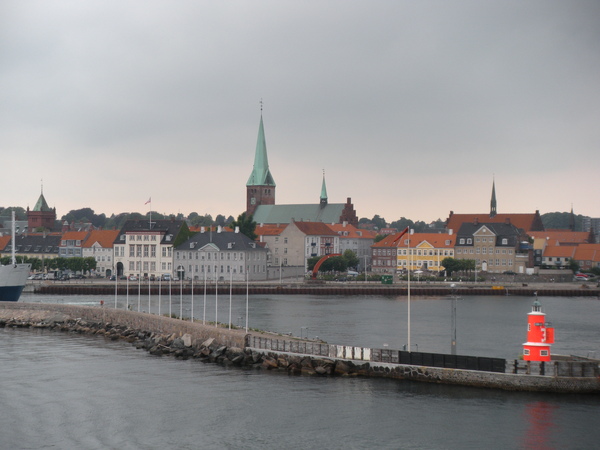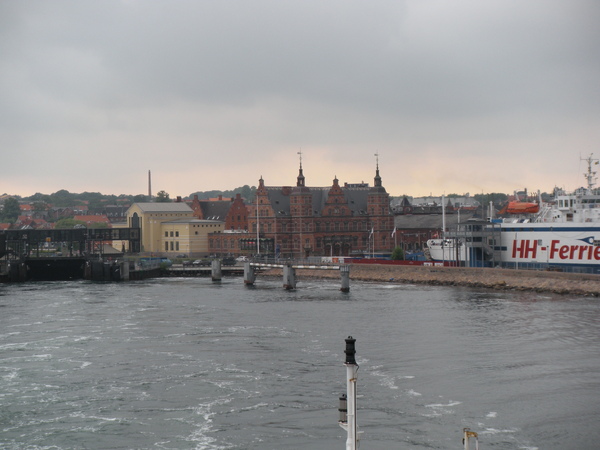 It takes only 20 minutes from Helsingor and Helsinborg. Since we visited Helsingor and Kronborg today. The remaining course was bonus trip. So we took our time and walked randomly.
This is the city hall.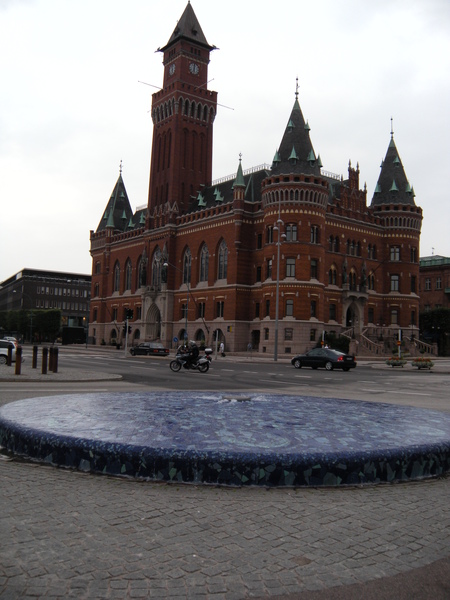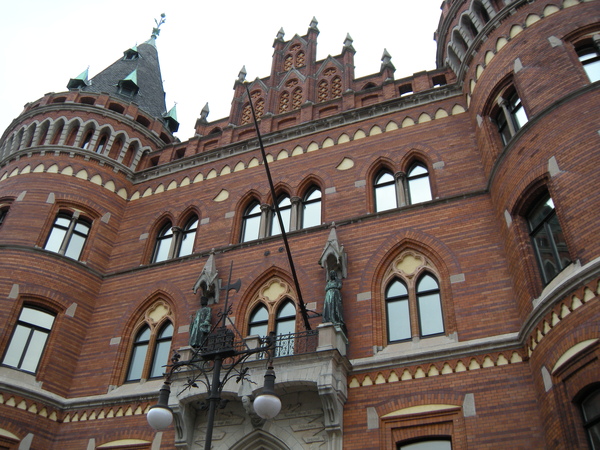 The streets of Helsinborg.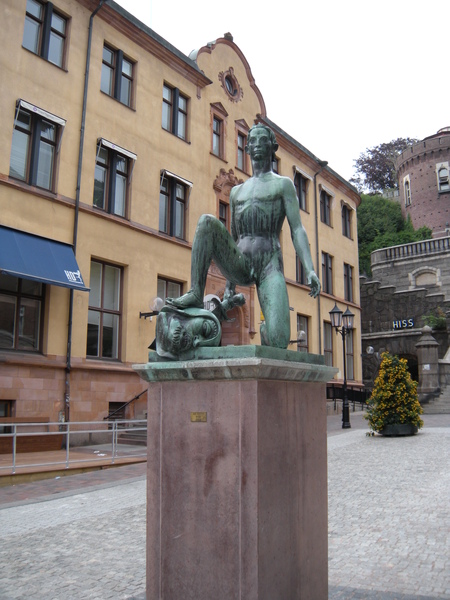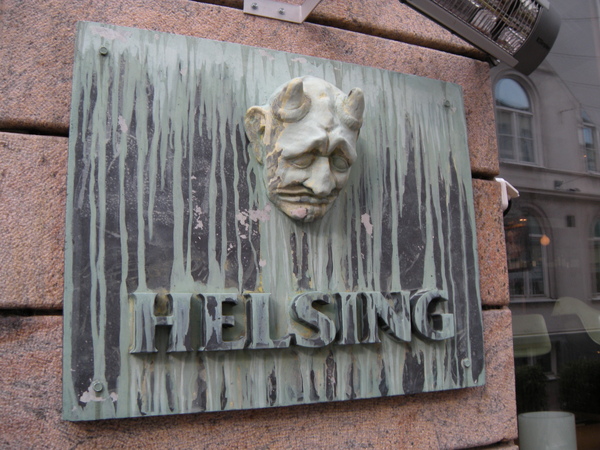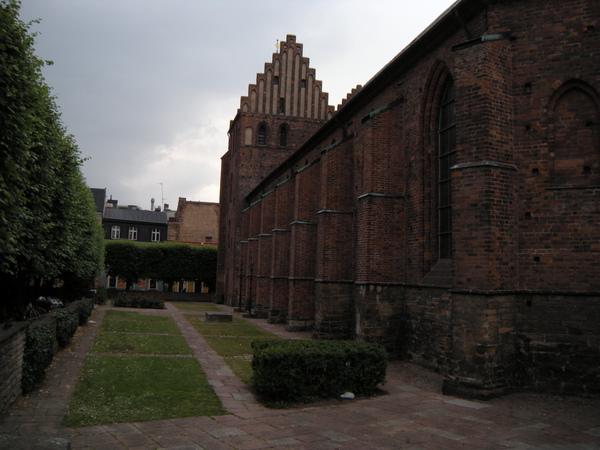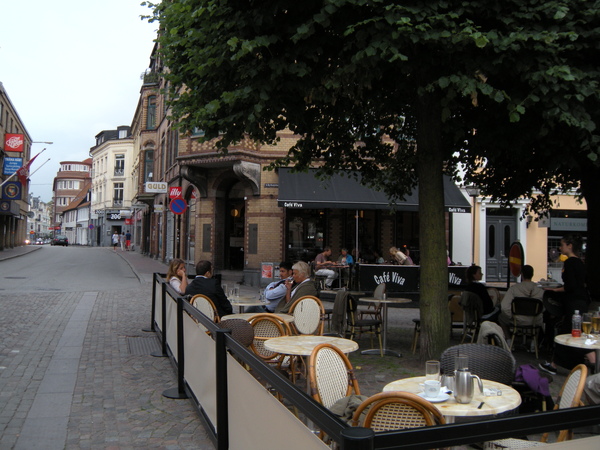 There is a building looked like a castle here. I was tired and did not intend to go up. However, I saw many people go up. So I decided to check it out.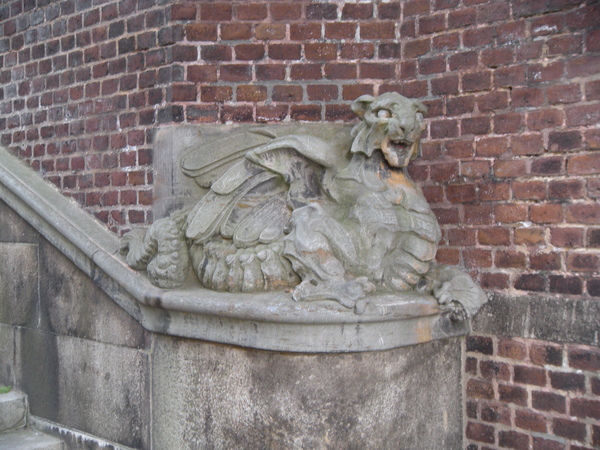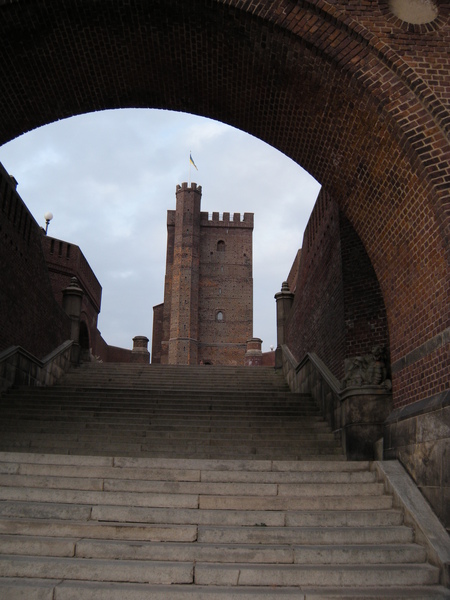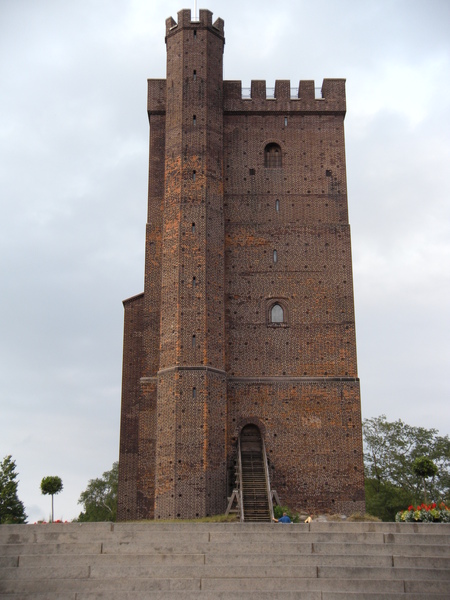 In my opions, there were several Danish kings lived in Helsingor. Thus we can see royal rooms and Kronborg there. In Helsinborg, which is now belonging to Sweden, this was for military useonly. Thus there is no famous spot here.
However we can have fantastic view from here.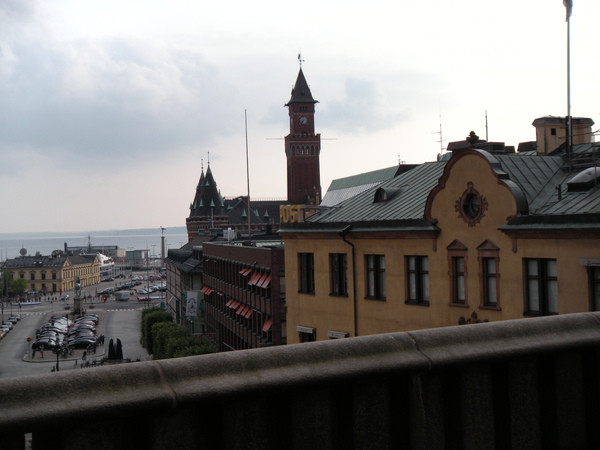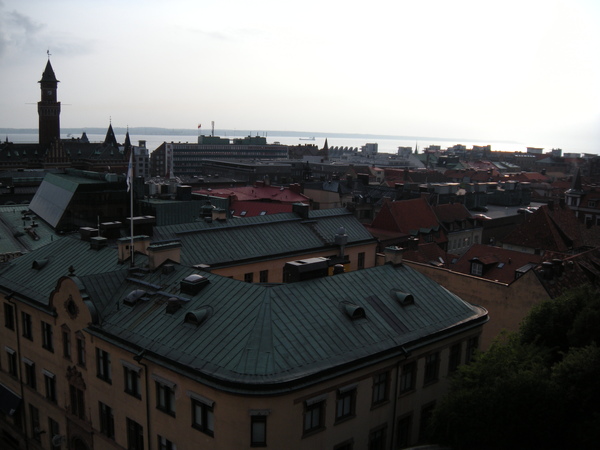 I can tell which is better or worse. This place looks like a garden. It's fabulous for people to take a walk alone or with pets or with family or with friends. It's always open for all people in the city or tourists.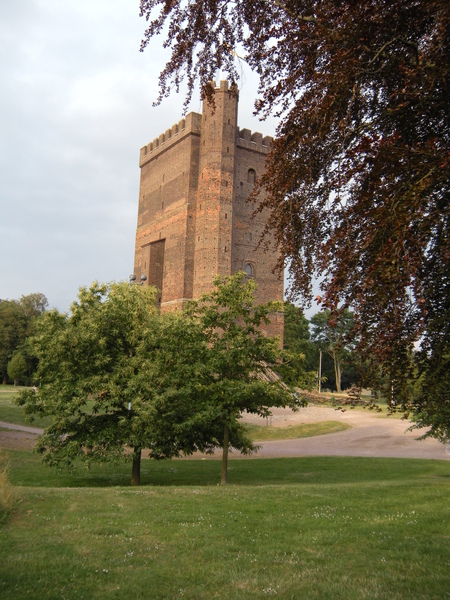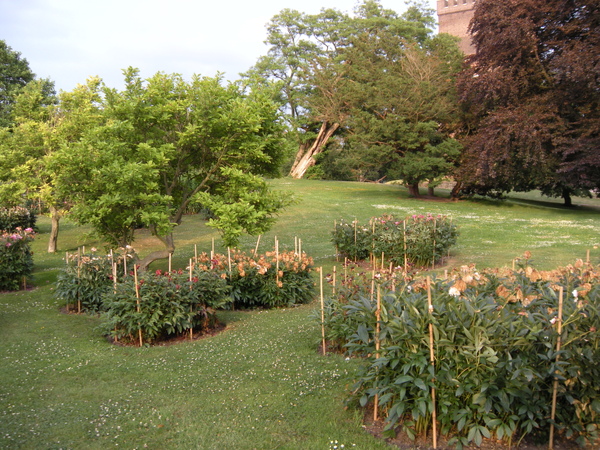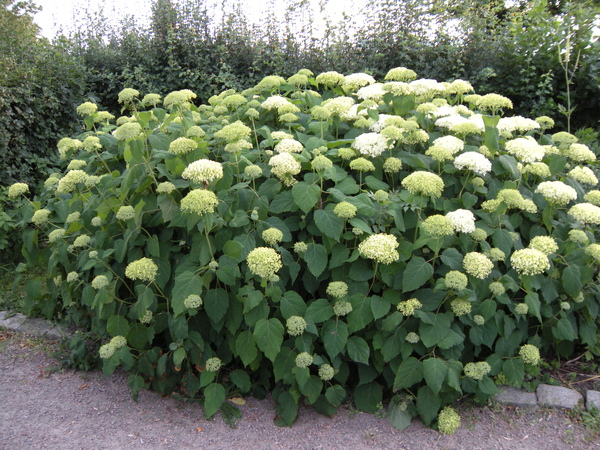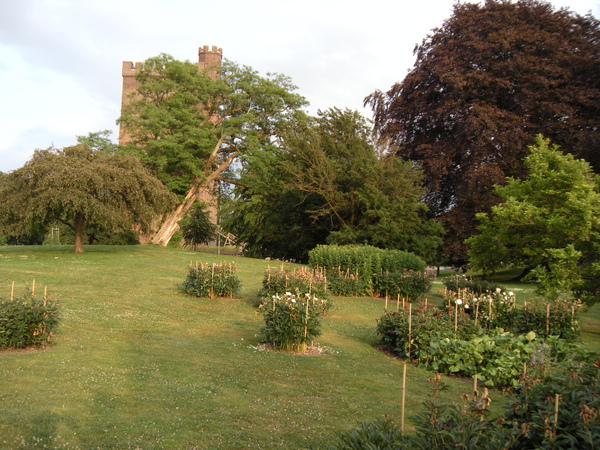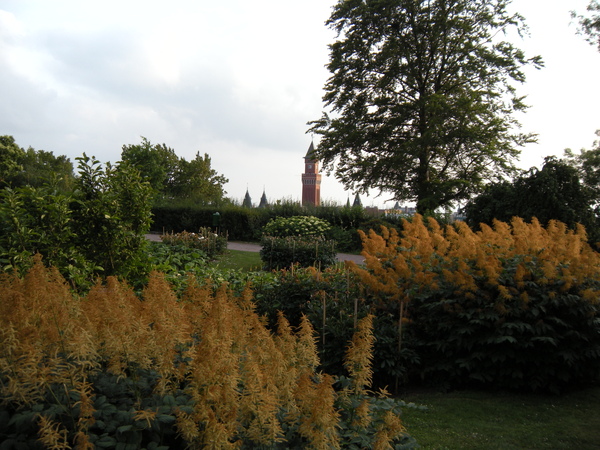 So there is residential area neary. All we had to do was to take our time and walk the way home.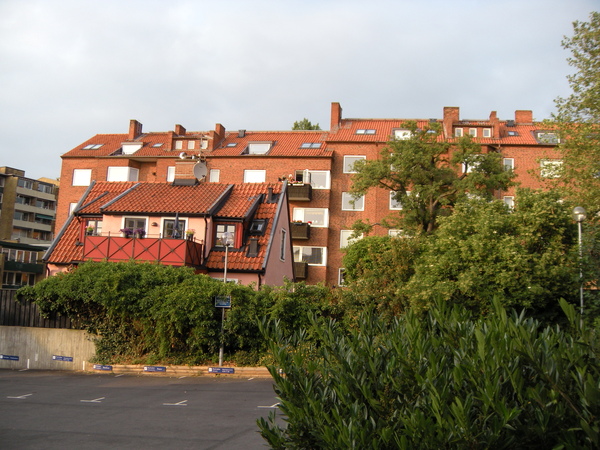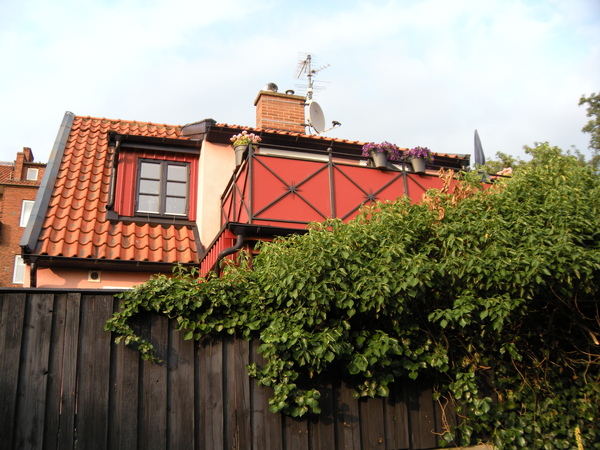 Actually it's 8 PM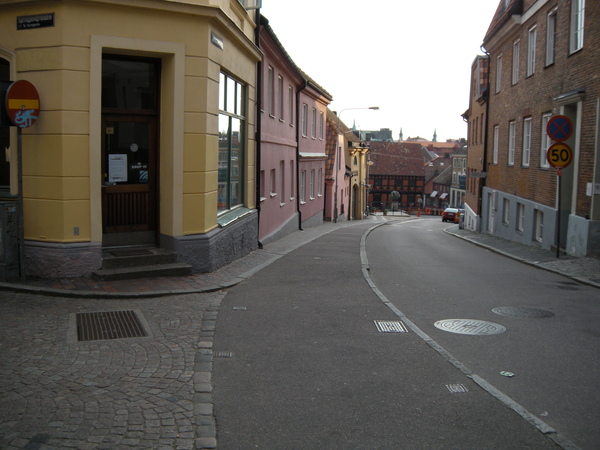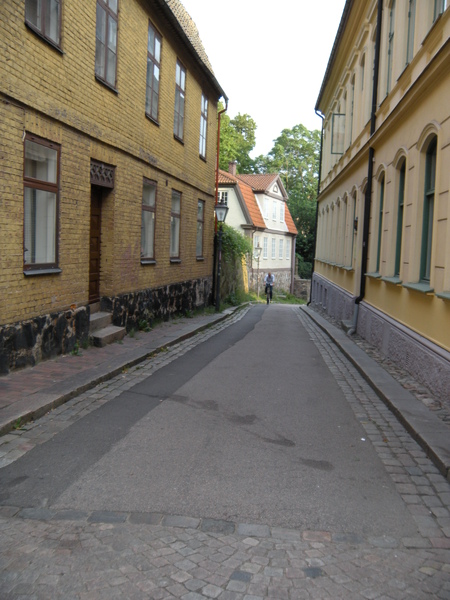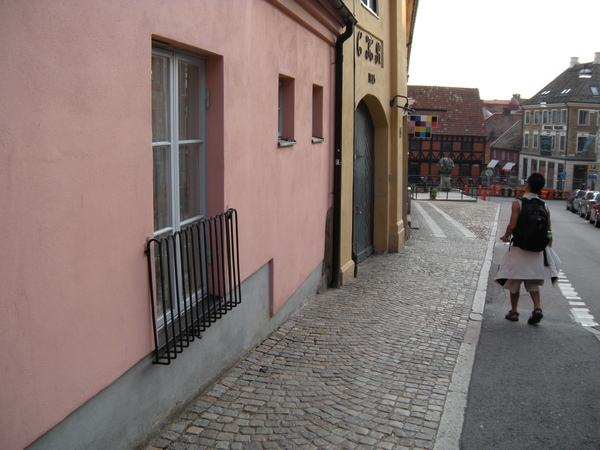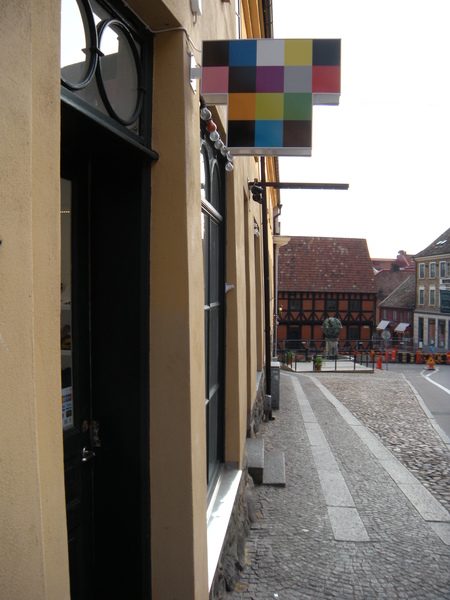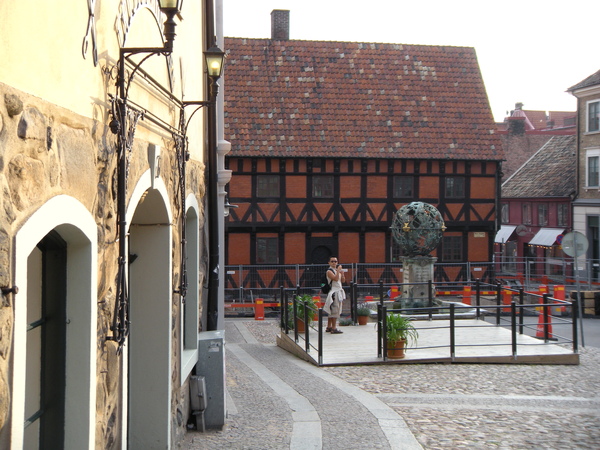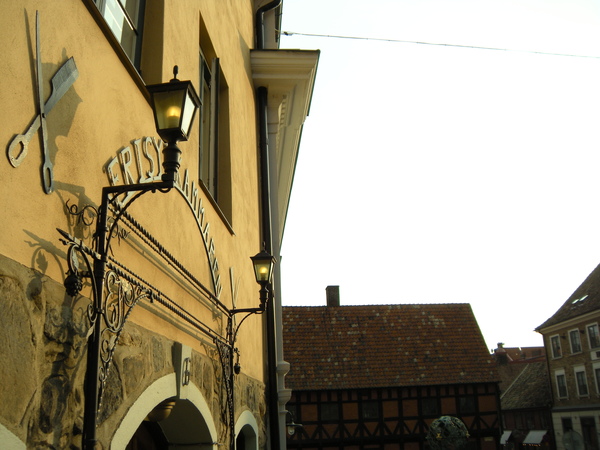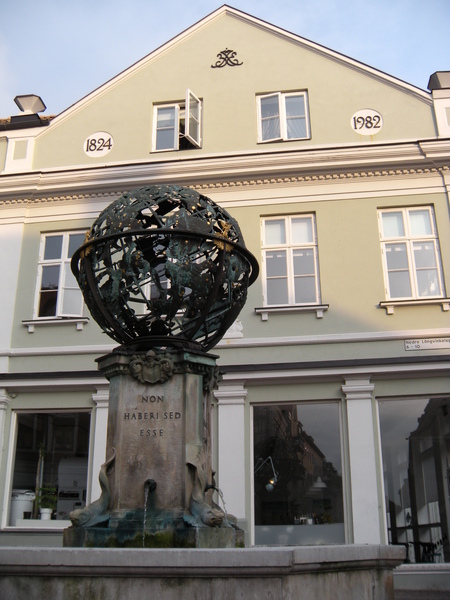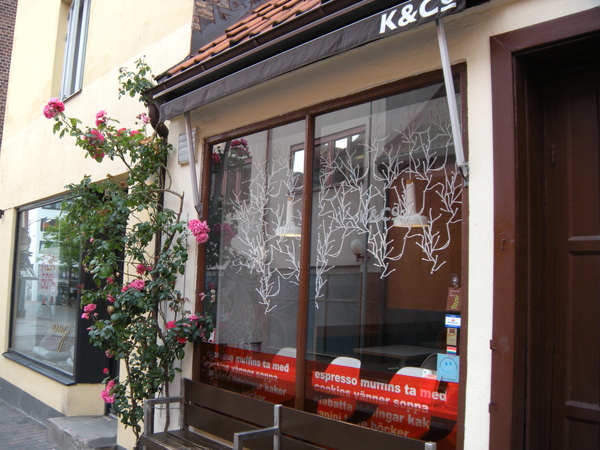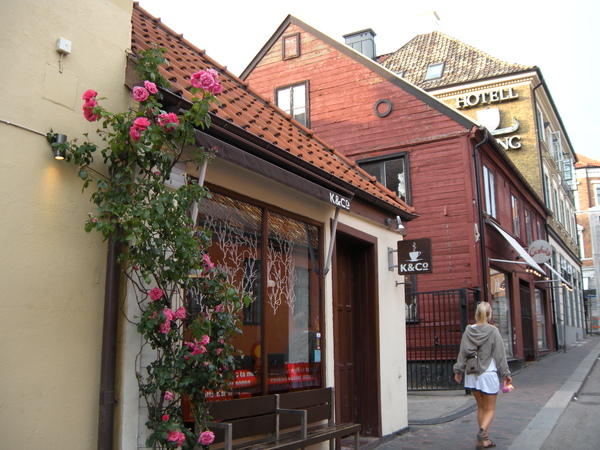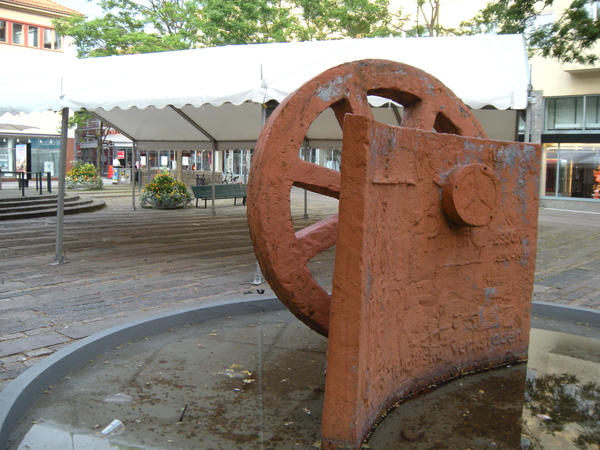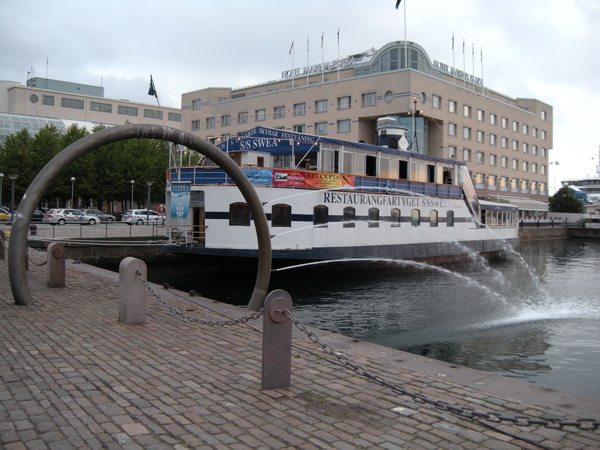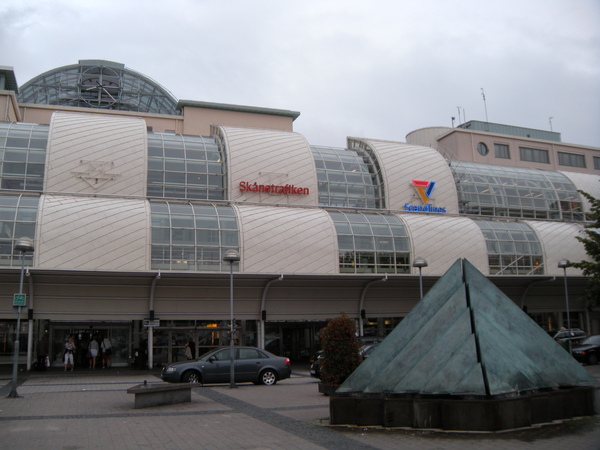 So it's perfect to enjoy two coutries within one day, wasn't it?